Rail Mounted Shiploader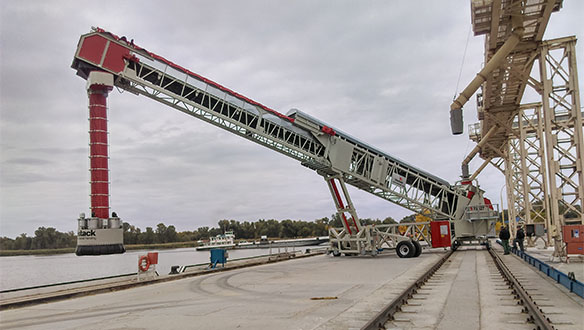 The Rail mounted telescopic shiploaders bring together the flexibility of the telescopic technology along with the ease of mobility of mounting on rails. The rail mounted shiploaders allow the unit to move easily parallel down the quayside with the telescopic conveyor system trimming the hatch of the vessel accordingly. They can load vessels up to Panamax size with ease and offer a complete range of options including chutes and dust suppression / extraction options for specific applications and materials (see below options for reference, source: Telestack).
Features & Benefits
Radial and Telescopic features offer unrivalled trimming capabilities for most sized vessels
Smooth transition down quayside for quick hatch to hatch transfer.
Full Integration with over feeding eqwuipment – tripper / overhead conveyor systems.
Complete Dust Extraction / Suppression options for handling complete of materials.
Fully sealed feed-in / transfer and discharge points to eliminate spillage on site.
Loading rates up to 3,000TPH.
Fully extended lengths up to 58 metres (190ft).
Lead Times can range from 10 – 30 weeks.
Land / Sea Based Systems are available.
Eliminate double handling of material in Port /Inland Terminal.
Options
Full integration with tripper/overhead conveyor systems to ensure a complete 'package' project.
Fully integrated generators to power entire shiploading system.
Dust Suppression Measures – Galvanised / Canvas Dust covers, Telescopic dust covers, dust extraction, Integrated telescopic chutes (Free-fall – Cascade Design), 360 degree trimmer chutes, Rubber 'sock' chutes, water suppression and many more.
Sealing of all transfer points including side plates and under-trays.
Electrical Integration – Communication interlinks, radio remote controls, Ethernet connections and many more.
Marine Specification paint finish.
Customised projects to meet the needs of the application.