Trestles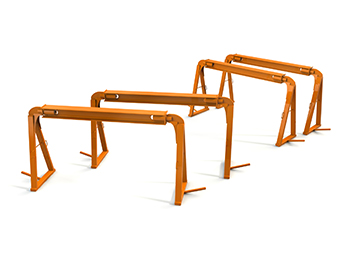 Global Port Equipment can offer you A-testles and U-trestles of Movella.
A- and U-trestles are the simplest load platforms when handling beams and other self supporting cargo with a translifter. Movella trestles are strong, safe to use, need no maintenance and last virtually forever.A- and U-trestle
Road transport trestle is a trestle with removable legs and it is handled with a translifter in factory area and with a semi-trailer on public roads. The benefits of road transport trestles are: the truck driver loads his cargo independently, no cranes or forklifts needed in the warehouse area, flexible warehousing anywhere (Source: Movella).