Telestack Revolution Series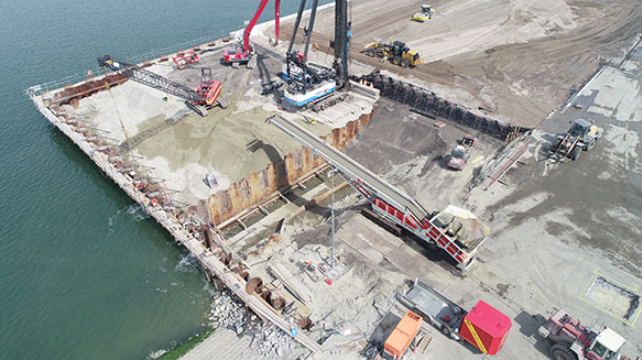 Global Port Equipment Iberia offers the Telestack Revolution series. The Telestack Revolution Series comprises of the hopper feeder range with centre mounted slew bearing that enables 360° rotation and movement of the hopper to enhance the mobility on site. This is the latest innovation from Telestack to ensure the ultimate flexibility of the Hopper feeder range when in a range of application. The mobility feature makes it ideal for barge loading and unloading, rail loading / unloading and stockpiling, the ability to move parallel enables the operator to maneuver the unit parallel to the vessel removing the need to reposition the unit, when Ship-loading or Ship-Unloading thus enhancing loading rates and efficiency (Source: Telestack).
Key Features
360° rotation of hopper and boom
All Tracked travel allows for the ultimate in flexibility around site (Parallel and In-line travel)
Ability to radial stockpile with ease
Unit can be transported on 1 x low loader for easy site to site transport
Eliminate / reduce double handling of material from wheel loaders
Complete range of mobility and sizes available for a range of applications
Features & Benefits
Loading rates up to 1000TPH
Range of designs and hopper capacities depending on feeding equipment and production rates on site.
Complete on-site mobility including tracks (rubber tracks option)
Reduces fuel cost by up to 75% compared tomdeium sized wheel loader
Reducing loading shovel movements which reduces operating cost and improves safety.
Increased safety as no need to stockpile with wheel loaders.
Hydraulic folding head section allowing for compact road transportation.
Can be packed into 40ft containers for easy, cost effective transport around the globe.
Unrivalled mobility and flexibility when in operation.
High specification machine designed for ease of maintenance commanding an excellent resale value at project conclusion.
Heavy duty design and manufacture.
Options
Up to 35m3 hopper capacities to cater for all types of wheels loader/ grab cranes/ excavators
Apron belt feeder or Apron pan feeder upgrades for high density material or large lump size
Integrated Diesel Electric Generators/ Diesel Engines
Range of discharge conveyors (Cambered boom, fixed length)
Dust Suppression Measures – Galvanised / Canvas Dust covers, 360 degree trimmer chutes, Rubber 'sock' chutes, water suppression and many more.
Sealing of all transfer points including side plates and under-trays
250 micron Specification paint finish.
Please contact us for more info and suitable offers.