Tracked Bulk Reception Feeder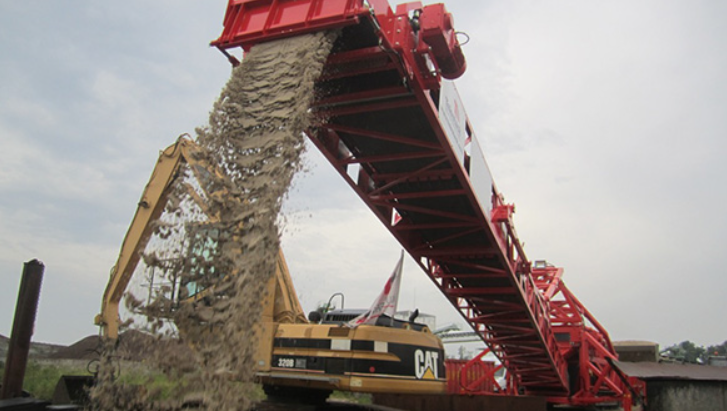 The Tracked Radial Bulk Reception Feeder offers unrivaled mobility and flexibility for a complete range of industries and applications, including mobile truck unloading, reclaiming, rail wagon loading / unloading, barge loading / unloading, truck loading, with the ability to handle complete range of materials such as coal, grains, fertilisers, ore's (iron, copper, gold, bauxite), aggregates, woodchips, wood pellets, sulphur, cement clinker etc.
The range of Mobile Bulk Reception Feeders allows the operator to directly unload trucks easily to eliminate the double handling of material. The fully tracked mobile units are used to take the 'surge' of material from up to 70 tonne trucks and transfer to other Telestack equipment or auxiliary equipment. The mobility of the units allow them to be utilized in a range of applications and industries (source:Telestack).
Key Features:
Eliminate double handling of material
Unload trucks easily for a range of applications and industries
Heavy duty design for complete range of materials
Complete mobility and flexibility
Features & Benefits:
Heavy duty designed feed-in points from trucks up to 60 – 70 tonne
Integrated Apron chain belt feeder to handle 'surge of material' from trucks
Mobility means Flexibility – Complete on-site mobility with tracks via integrated disel hydraulic engine for a fully independent unit (optional dual power / electric)
Dust Extraction / Suppression options for handling range of materials
Fully sealed feed-in / transfer and discharge points to eliminate spillage on site
Fixed and Radial boom options for maximum flexibility
Loading rates up to 1,500TPH (Depending on Truck Cycle times)
Range of Truck unloaders for all applications
Typically lower capital investment than fixed truck unloading systems
Reduced civil requirements on site
Options
Dual Power (Electric driven belts)
Rubber tracks upgrade for operating on concrete / asphalt ground conditions
Dual Access Upgrades for increased unloading rates.
Dust enclosures c/w rubber dust flaps at feed-in point.
Dust Suppression Measures – Galvanised / Canvas Dust covers, dust extraction, Integrated telescopic chutes (Free-fall – Cascade Design), 360 degree trimmer chutes, Rubber 'sock' chutes, water suppression and many more.
Sealing of all transfer points including side plates and under-trays
Hydraulic raise / lower ramps to limit truck cycle times
Apron chain belt feeder to handle surge of material in feeder
Integrated steel plate design for enhanced strength
Range of power options – Diesel engine, electric drives, dual power
Optional Telescopic chute for loading barges to eliminate dust emissions
Single, dual or 3 x sided loading for maximum flexibility