Static Bulk Reception Feeders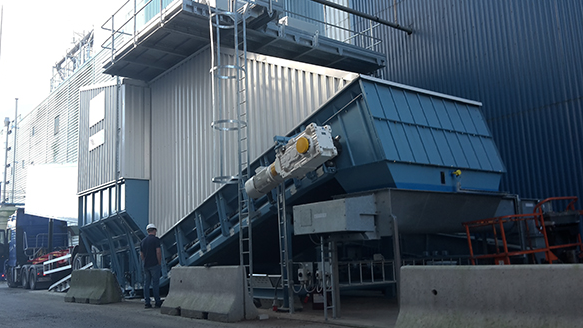 Global Port Equipment offers Static Bulk Reception Feeders. The bulk reception feeder enables dump trucks and front loaders to discharge into a processing or stockpiling plant directly, where the bulk reception hopper feeds the system with a regulated flow of material. The double handling of primary material is also eliminated due to the direct feed in from trucks/front loaders. The "Truck to Plant" concept of the static Titan range eliminates the double handling of material by loading directly into the production facility in a controlled manner. Telestack's expertise in designing bulk reception feeders means that we fully understand the truck unloading process where tonnages are determined by a wide range of variations from truck capacities to material specification to cycle times. Each project is treated individually and intricately to ensure the correct solution for the customer based on detailed cycle time calculations and knowledge gained from many successful installations globally (source: Telestack).
Key Features
Eliminates the double handling of material by loading directly into the production facility in a controlled manner
Can be used to receive material direct from rail wagons, wheel loaders and from vessels via discharge grab cranes
Can be used to load direct to rail wagons and vessels
Can be used to reclaim onto downstream overland/ stockpiling conveyors
Can handle a wide variety of dry bulk including grain, biomass, fertiliser, coal, cement clinker, aggregates, iron ore and many other heavy ores etc
Can provide intermediate storage and a controlled volumetric discharge
Various designs to suit a wide range of applications
Features & Benefits
Trucks up to 100 Tonne Payload
Full mechanical and electrical integration into current/new process plant
Dust Extraction / Suppression options for handling range of materials
Fully sealed feed-in / transfer and discharge points to eliminate spillage on site
Loading rates up to 2,000TPH (Depending on Truck Cycle times)
Range of sizes and customisation available to meet the needs of each application
Modular design allows for easy/quick installation process
Minimal civil requirements on site
OPTIONS
Wide Range of entry options from 3m wide standard parallel entry to up to a 6m flared entry or universal entry.
Wide range of chute/ volume control blade & feeder discharge options , designed for each application
Environmental Options for Dust, Fumes & Odour control include,dust control units, dust enclosures and a range of different entry curtains
An electrical control panel which can be altered to suit customer requirements.
Full range of field instrumentation is offered including:
Chute and entry material level probes
Rotation sensors and loss of rotation alarms
Emergency stops and pull-wires
Operational and maintenance lighting
Start-up sirens and alarms
Local operator start panel
Traffic lights system
Please contact Global Port Equipment Iberia a suitable offer.