Tracked Telescopic Conveyor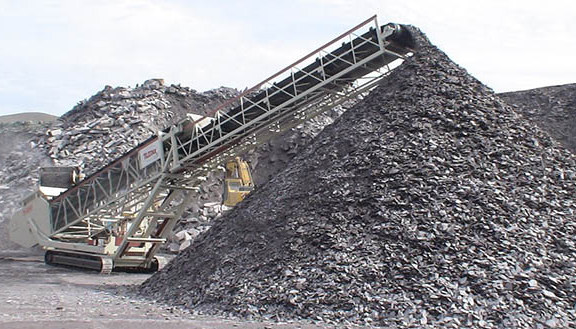 The only tracked telescopic conveyor on the market, these heavy duty units are a unique product that offer mobility and flexibility for a range of applications including stockpiling and as a variable length link conveyor. The Telestack Track Mounted Telescopic Conveyor is the most Heavy Duty Track conveyor on the market. Initially launched at Bauma in 2006, Telestack was the first company globally to build this style of machine. These machines can be used as stand alone stackers or more typically as variable link conveyors.  These machines can operate at up to 1500 tph. They are the number one choice of the serious quarry producer / mine owner (Source: Telestack).
Features & Benefits:
Capable of stockpiling / Conveying 12 inch (-300mm) down crushed or screened material at rates up to 1500 tonnes per hour.
Variable length link conveyor between primary and secondary crusher.
Unique telescoping action allows for a generous conical stockpile capacity of 1345 m3 (2,150 Tonnes)
Removes the need for a dedicated wheel loader to constantly remove material from a crusher or screen.
Wide range of operating positions with variable discharge height between 3.5 and 8.8 metres and variable conveyor length between 15 and 24 metres.
Eliminate double handling of material with wheel loaders
Fully integrated CAT Diesel Engine for all functions (Optional Dual power – Electric driven belts).
Environmental Benefits – reduce noise, dust and emissions.
Safety Benefits – Less site traffic movements.
Options:
Dual power – (Electric & Diesel)
All Electric Conveyor. (Diesel Track – Electric Conveyor)
Hardened Steel Liners
Side Skirting / Anti roll back
Radio remote Control
Belt upgrades
Dust Suppression Measures – Galvanised / Canvas Dust covers
Fully sealed transfer points
250 micron Specification paint finish